# Webhook Management
WARNING
In order to manage webhooks, you must either have a role with the name Trello, or have administrator privileges.
# Adding a webhook
You can start adding a webhook by using the /webhook add command. After selecting a board, you will be prompted to either link an existing Discord webhook or create one.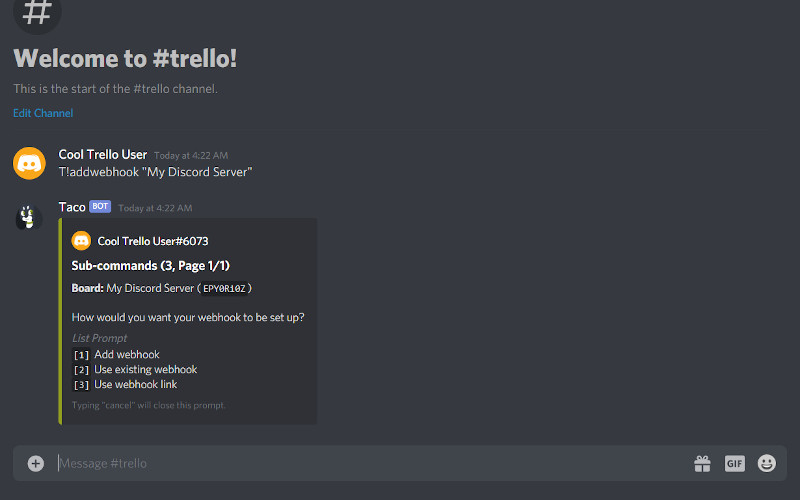 After creating a webhook, a message will be sent on the new webhook confirming the setup.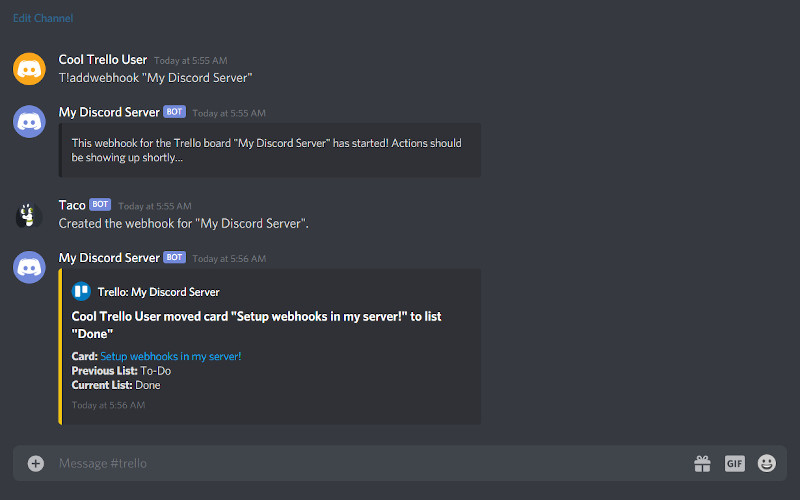 # Viewing webhooks
To see a list of webhooks on a server, use the /webhooks command in a Discord guild.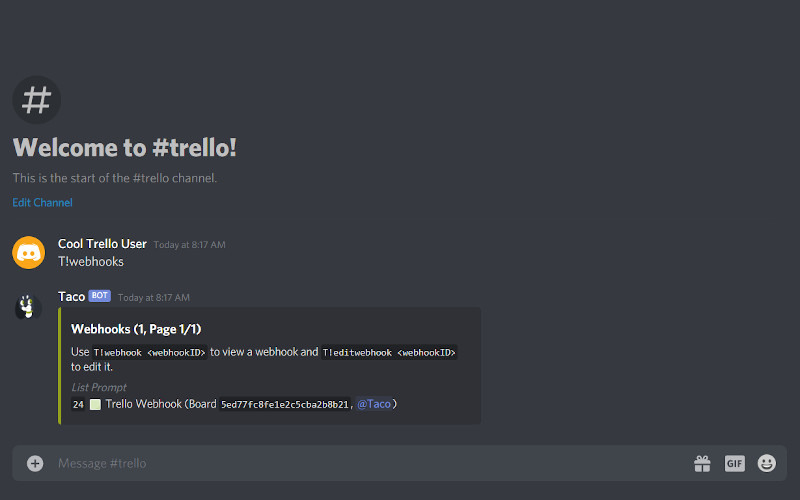 To view a webhook, use the /webhook command with the webhook's ID. (i.e. /webhook view webhook:24)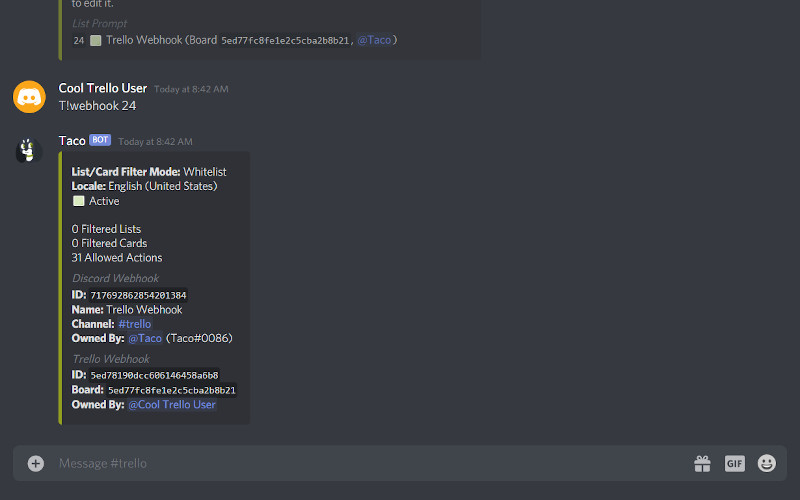 # Editing a webhook
TIP
By default, there are 31 default filters for every newly created webhook. Not all events will show and will require you to manually turn them on.
Default webhook filters

ADD_CHECKLIST_TO_CARD
ADD_LABEL_TO_CARD
ADD_MEMBER_TO_BOARD
ADD_MEMBER_TO_CARD
COMMENT_CARD
CREATE_LABEL
CREATE_CARD
CREATE_LIST
DELETE_CARD
DELETE_CHECK_ITEM
DELETE_LABEL
MAKE_ADMIN_OF_BOARD
MAKE_NORMAL_MEMBER_OF_BOARD
REMOVE_CHECKLIST_FROM_CARD
REMOVE_LABEL_FROM_CARD
REMOVE_MEMBER_FROM_BOARD
REMOVE_MEMBER_FROM_CARD
UPDATE_CHECK_ITEM_STATE_ON_CARD
VOTE_ON_CARD
CREATE_CHECK_ITEM
DELETE_COMMENT
UPDATE_COMMENT
UPDATE_BOARD_NAME
UPDATE_BOARD_CLOSED
UPDATE_CARD_NAME
UPDATE_CARD_LIST
UPDATE_CARD_CLOSED
UPDATE_CHECK_ITEM_NAME
UPDATE_CHECKLIST_NAME
UPDATE_LIST_NAME
UPDATE_LIST_CLOSED
You can change the way your webhook operates with the /webhook set command. From here you can change:
Webhook filters
The locale of the webhook
Whether the webhook is actively sending events or not
Filtered lists/cards
Whether to use a whitelist or blacklist filter
Repair a webhook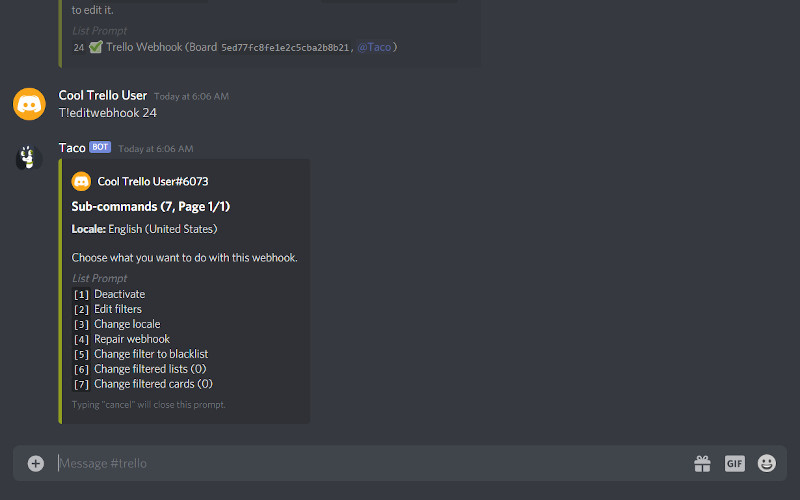 # Changing webhook filters
You can toggle certain filters for the webhook such as when a card gets moved, when a label gets added to a card and more.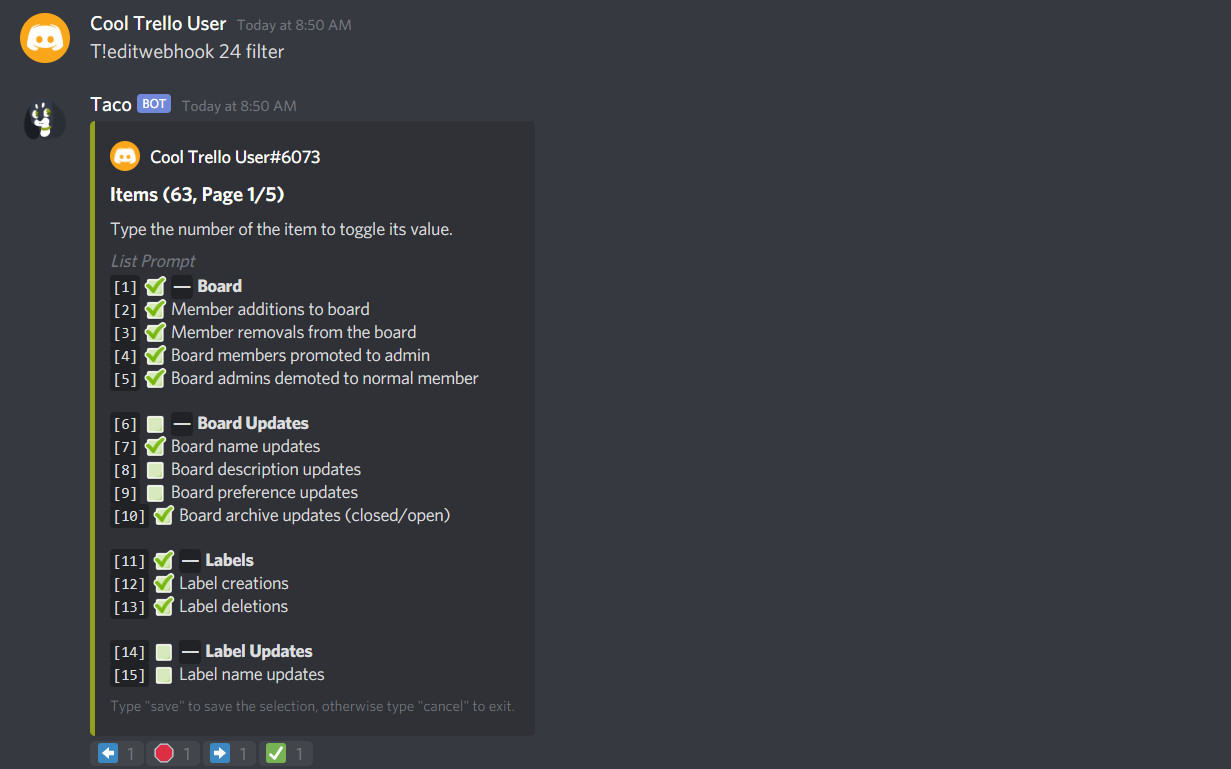 To toggle a filter, type the number of the filter corresponding to it. Toggling filter category names will toggle the rest of the filters at once.
WARNING
Make sure to react with the checkmark or type done or else your changes will not be saved!
# Repairing webhooks
The "repair webhook" option will fix the following:
A Discord webhook linked to the webhook is deleted
The internal webhook no longer exists

This can happen if the user who has created the webhook has removed their account from Taco.

The internal webhook is not activated
# Removing a webhook
You can remove a webhook with the /webhook delete command followed by the ID of the webhook. (i.e. /webhook delete webhook:24)